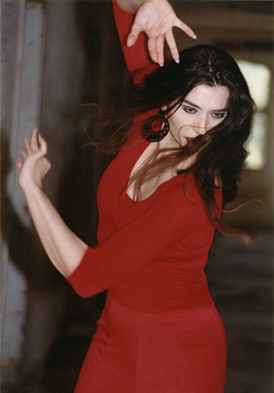 ORNILI AZULAY, Flamenco and Classical Spanish dancer and choreographer, combines in her work classical music and theatrical contents. She performs with symphonic orchestras, choirs and opera houses.
Ornili studied under the tutelage of the renowned teacher of classical Spanish dance and flamenco Silvia Durán and was a leading dancer, soloist and later guest artist of Durán's dance company. Ornili was also a leading teacher at Silvia Durán's Spanish Dance School (the first school of Spanish dance in Israel) where she taught following Durán's method, which was recognized and approved by Antonio Ruiz "El Bailarín".
In Spain she studied and worked with leading dancers, choreographers and musicians including:
Paco Fernández (the great teacher of some of Spain's most important dancers);
Tomás De Madrid (who chose her to dance and act (play) a work he created based on Lorca's poem Preciosa y el Aire (Beauty and the Wind);
María Magdalena, (the famed teacher from the film Carmen by Carlos Saura and Antonio Gades)
Antonio Canales (one of the most innovative and influential flamenco dancers and choreographers over the last decades, who invited Ornili to join his selected group of dancers and to take part in a special process of developing and advancing his modernistic style);
Juan Maya Marote (the distinguished guitarist and leader of the school of the pure interpretation of the art of flamenco).
She also attended classes and seminars with Victoria Eugenia "Bety" (former artistic director of the Spanish National Ballet); El Guito; La Tati; Angelita Gómez; Carmen Ledesma, David Sánchez, Miguel Angel, Inma Ortega.
Ornili was trained as an actress in London at the Royal Academy of Dramatic Arts, at the Lee Strasberg Institute in USA and with renowned acting coach Yonny Lukas. She studied voice and vocal development with Prof. Hanna HaCohen.
Ornili started writing poetry at a young age and was awarded with several literary prizes, including the Ron Adler Poetry Award of the Haifa University.
Her book To Worship God, To Worship Man (Yaron Golan Publishing House) won the Rachel Award for Hebrew Poetry.
She is fluent in Hebrew, English and Spanish.
Some of her work and performances over the last years:
In 2014-2015 season ornili performs with the Israel Philharmonic Orchestra under the direction of Maestro Zubin Mehta: Ornili solo dances original choreographies she created in the opera Carmen in concert form, with international solo singers and the Gary Bertini Israeli Choir.
In 2011 she created and premiered a one woman show "Dance and Desire – Solo works by dancer and creative artist Ornili Azulay" at the Suzanne Dellal Center (winner of the Israel Prize), within the frame of the center's summer festival "Macholohet 2011"
In 2010 she was invited to act and dance at the Teatro de la Zarzuela in Madrid in a production of El Niño Judío under the direction of Jesús Castejón and the choreography of Goyo Montero. 
In 2009 Ornili was invited to be the leading dancer and assistant choreographer to choreographer Nuria Castejón for the opera Carmen at the Los Angeles Opera (General Director Plácido Domingo). This co-production of the L.A. Opera and the Spanish Royal Theater was directed and produced by Emilio Sagi.
In 2008 she performed a series of concerts with the Israel Symphony Orchestra and conductor Dan Ettinger.
In 2007 Ornili performed her original choreography to the Misa Criolla by Ariel Ramírez at the Walt Disney Concert Hall in L.A. with the Los Angeles Master Chorale, as part of the 2006-2007 season's major concerts. The concert which was conducted by the chorale's music director Grant Gershon was titled Ignite and received extraordinary reviews. A few years earlier Ariel Ramírez saw Ornili's interpretation of the Misa Criolla and expressed his deep appreciation for her work.
Ornili's Unique Shows:
Peer Gynt – Concert Drama show based on her own concept and choreography where she performs E. Grieg´s Peer Gynt Suites with a symphonic orchestra, and portrays through movement and text the different women in Ibsen's play. The premiere was with the Symphonette Raanana and was later performed fully or partially with orchestras in Israel and abroad such as the Israel Symphony Orchestra of Rishon Lezion, Brazil Philharmonic, the L.A. Symphony and others). Excerpts of the work were also performed with stars of the National Theatre of Norway in the festival "Ibsen on Stage" at the Cameri Theatre in Tel Aviv.
Romance Sonámbulo a staged version to Lorca's great poem in which Ornili gave an Israeli – Palestinian interpretation to this piece. She performed as translator, director, choreographer, dancer and actress in this work which was originally produced by Israel's national theatre Habima in collaboration with Palestinian actors Salah Bakri and Mohammad Bakri.
The Flame and the Frost – A Dialogue for a Dancer and an Orchestra, where she collaborates with symphonic orchestras and performs choreographies to a wide range of orchestral repertoire such as: Cappriccio Espagnol and Scheherazade by Rimsky-Korsakov, excerpts from Carmen by Bizet, El Amor Brujo (Love the Magician) and Nights in the Gardens of Spain by Manuel De Falla excerpts from the opera Samson and Dalila by Camille Saint Saens, Bolero by Ravel, Israel Suite by Noam Sheriff and others. Ornili is invited as a soloist to orchestras in Israel and abroad such as: Orquesta Sinfonica Brasileira, Israel Philarmonic Orchestra, Los Angeles Jewish Symphony, Orquesta Sinfónica Nacional de Ecuador, Sinfonietta Beer Sheva, Haifa´s Symphonic Orchestra, etc.
To Have a Few Words with You, a one woman show in which Ornili recites and dances her own poetry.
Rosa y Cuchillo a one woman show in which Ornili combines monologues and poetry by Federico García Lorca with Flamenco and Classical – Spanish dancing to music by Spain's greatest composers.
Special collaborations and performances:
Ornili was the only featured soloist at the International Ballet Festival of Miami among a number of leading international dance companies.
She was commissioned to choreograph and solo-perform at the Opening of the Exhibition Femme Fataleat the Tel Aviv Museum of Art.
Ornili was invited by the internationally acclaimed Israeli author David Grossman to dance excerpts from Saint Saens' opera Samson and Dalila on the occasion of the publishing of his book Lion's Honey, dedicated to the biblical story of Samson.
She was invited by Maestro Noam Sheriff to choreograph and solo – dance Ravel's Bolero in a concert titled The Bolero Craze, homage to the historical debut of the piece.
She honored actor Theodore Bikel at his tribute featuring other performers such as Leonard Nemoy, Peter Yarrow, Larry Miller, Mare Winningham and Ed Esner.
Ornili was invited to choreograph and perform excerpts from Carmen at the opening night of the season of the Hollywood Bowl with the Hollywood Bowl Orchestra.
Ornili performed at video-clips for various artists, including David Broza's song Isadora (in which she portrayed Isadora Duncan) and Omar Torrez's song Señorita, She choreographed and solo-danced a music video for Josh Groban. The video was screened on Groban's live concerts tour which took place at venues such as Radio City Hall in New York and the Shrine Auditorium in Los Angeles.
Ornili starred a campaign of Golan Wineries and was filmed dancing Ravel's Bolero in different sites all over Israel.
She has also been selected by the famed European choreographer Phillipe Du Couflet for a future productions of Cirque Du Soleil.
Ornili was invited by Mrs. Anna Strasberg to perform scenes by Lorca and Tenessee Williams as well as danced/acted interpretations of Azulay's poetry in presentations of the Lee Strasberg Institute and The Actors Studio.
She created and performed a work for the Acre Theatre Festival designing and performing a dance –theater scene to Pergolesi's Stabat Mater in collaboration with controversial film and theater director Honi Hamaagel.
Ornili was invited by congresswoman Diane E. Watson to perform for the Legislative Black Caucus Foundation.
Ornili was invited by the American ambassador to Israel Mr. Richard Jones (2008) to perform a recital of dance and drama at the ambassador's official residence.
Ornili was invited by the Spanish Antena 3 Television journalist Henrique Cymerman to perform her danced/acted interpretation to Lorca's Blood Wedding on the occasion of the publishing of his book Conversations in the Center of the World- Interviews with the Leaders of the Middle East. The performances were attended by ministers, ambassadors and international press representatives.
In July 2010 Ornili performed parts of the Misa Criolla to a crowd of 35,000 people at a special tribute of the Karmiel Dance Festival on the occasion of Latin America's 200 years of independence. On that occasion she shared the stage with the Ballet Folklórico de Chile, Swing Latino from Colombia, Ensemble Folklórico Latino Americano, Mira Awad and British singer Samantha Fox.
In 2011 Ornili was invited by pianist Orit Wolf to choreograph and dance pieces by Chopin for a Chopin recital in the series The man behind the sounds  at the Tel Aviv Museum of Art.
In 2016 Ornili was invited by legendary guitarist – composer Al Di Meola to perform as a special guest improvising and dancing his music at Di Meola's concert in Israel.
During 2017 Ornili was invited to present (speaking and dancing) Carlos Saura's new film Beyond Flamenco (Jota de Saura) on several occasions,  including the Epos International Art Film Festival at the Tel Aviv Museum of Art, and the dance series at The Jerusalem Theatre.
In February 2017 she was invited to perform a recital of her solo works at the prestigious Club Matador in Madrid.
In July 2017 she was invited to perform, dancing and speaking, at an international conference at Oxford University.
Ornili teaches, lectures, initiates and runs workshops and master-classes on Spanish Dance and Flamenco. She emphasizes the acquiring of basic techniques on the subject and the development of listening to the music, the rhythms and the atmosphere, and reacting to them. She adapts the dancing style to the personality and the physical structure of the students. She also underlines the broad cultural background of Spanish Dance and Flamenco, referring to literature, visual arts, theater, cinema and other dance styles and their interaction with the art of Flamenco.
Among others, she gave master classes at the Julliard School in New York, the Kibbutz Contemporary Dance Company in Israel, California University at Irvine (for teachers from all over the U.S.), the Los Angeles Opera, the Karmiel Dance Festival, University High School in Los Angeles, etc.
Ornili is a member of the board of directors of the Israel – Spain Chamber of Commerce, since May 2010.
Ornili studied Literature and Philosophy at the Tel Aviv University. She served in the Israeli Navy.
Her work gained over the years attention from Israeli and international media: she was featured on the cover of Lifestyles Magazine, exclusive stories about her and her work were made for TV channels such as CNN en Español, Antena 3, Univisión, The First and The Second Israeli channels and others.
"The programs most fascinating moments took place when dancer Ornili Azulay was on the stage. Her richly textured Spanish style superbly amplified the Sephardic elements of the music…"
(LOS ANGELES TIMES)
"A brilliant dancer in a dazzling concert which brought rapturous applause from the capacity crowd."
(THE CLASSICAL MAGAZINE, LONDON)
"I have had the pleasure of becoming acquainted with the work of Ornili Azulay… I am struck by her grace, musicality and high level of command of Classical Spanish and Flamenco dance styles. She combines these creatively with contemporary choreography to create her own unique dance vocabulary… As a performer she has an extraordinary intensity and power to communicate with an audience…"
PLACIDO DOMINGO
"She is an impressive dancer and a creative choreographer… her performance excels in musicality, elegance and exceptional stage presence…"
ZUBIN MEHTA